SJE Arts
Sir Stephen Hough
SJE Arts International Piano Series 2024
Tickets from £25 to £40
Parking (limited availability) £10 per space
Pre-concert dinner £27 per person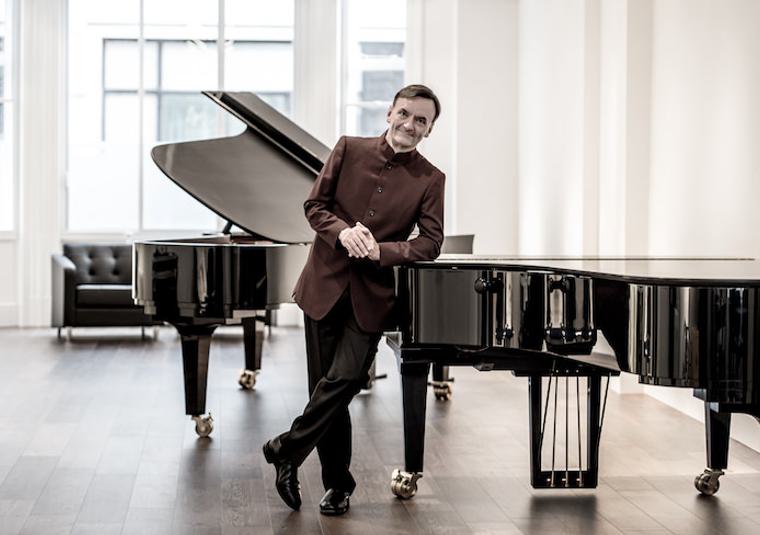 Chaminade Automne
Chaminade Scarf Dance
Chaminade Toccata
Liszt Sonata for Piano in B minor, S178
Interval
Chaminade Thème Varié
Chaminade L'Autre Fois
Chaminade Les Sylvains
Chopin Sonata No. 3 in B minor, Op.58
A major piano sonata dominates each half of Sir Stephen Hough's programme. The one and only sonata for piano that Liszt composed is highly virtuosic and conceived as a single entity that lasts without break for half an hour. Chopin's third and final piano sonata is by contrast, a typically brilliant account of the classic four-movement sonata form.
With these two giants, Sir Stephen introduces French concert pianist and composer, Céclile Chaminard. Active in the late nineteenth century, Chaminard wrote many beautiful mélodies and character pieces for solo piano. She was wildly popular in Britain and the USA for a time, but the Paris Establishment never accepted her, and she died in poverty. It is good to have her brought out from the shadows.
In 2023/2024 Sir Stephen Hough opens the Wigmore Hall season, premieres his own piano concerto in the USA and Europe, and performs recitals in cities including Beijing, Bilbao, San Francisco, Seoul, and Shanghai. We are delighted to have him back in Oxford.
Wheelchair Spaces

If you require a wheelchair space for this event, please call 01865 305 305 or email [email protected] for further assistance.